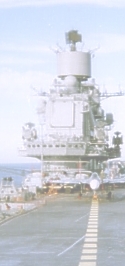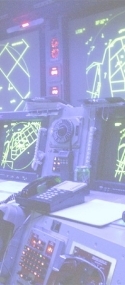 Cover page illustration depicts a fleet adversary F-5E from VFC-13 being pursued by one of VFA-2's new F/A-18F "Rhinos." Each of the two aircraft profiles was illustrated from source photographs using Corel PHOTO-PAINT and a lot of trial-and-error.
---
Latest updates: Added link to TOPSIGHT SENTRY, a weblog covering homeland security, critical infrastructure protection, and intelligence topics.
---

Punch Stack
News, notes, links, and commentary pertinent to the general subject matter of this site.
[19 Jun 2004]
Profiles in Tedium: Robin J. Lee
Useless facts about a dreary person. Now with a picture.
Major Site Overhaul in Progress
This website is presently undergoing a much-needed reorganization and phased upgrade. This will be the most significant revision since this site's launch in 1995; by the end of the overhaul, the main features of this site will have been completely revised and several new initiatives will have been launched. Check here for information on the reorientation and future plans for the site.
Frequently Asked Questions
The questions asked most often by readers of this site. Check here before e-mailing; the answer you seek might already be here.
---

State of the Russian Navy
A resource for developments in the Russian Federation Navy (Voyenno-Morskoy Flot), including an index to the known names of Russian naval ships, a short history of Soviet/Russian aircraft carrier development, and notes on major construction programs and fleet development. The forthcoming overhaul will bring the information in this fleet survey (dating back to late 1998) up to date, and is expected to include a greater focus on "small platform" development.
Vulture's Row: U.S. Naval Aviation in the 21st Century
A guide to U.S. carrier-based aviation, including the CV Guide to the active aircraft carrier fleet, carrier air wing order of battle, unit histories, and more. The forthcoming update will include a broader focus on new platforms and programs that will shape the naval aviation force in the next decade.
Ship Visit: USS Hornet (CV-12/CVA-12/CVS-12)
A photographic tour of the eighth ship of the U.S. fleet to bear the name Hornet, which along with its air wing downed over 600 Japanese aircraft in WWII and recovered the first men to walk on the moon. Decommissioned after 27 years of service, she was restored in 1995 and is currently a floating museum in Alameda Point, California.
---

Eagles, and Tigers, and Vipers . . . oh my!
A number of non-native birds of prey made an out-of-season appearance in Northern California, over the weekend of May 29-30, 2004. The Moffett Air & Space Expo was held early this year, and featured a pair of F-15s, a whole flock of F-16s, and even a section of Navy adversary jets from NAS Fallon. Photo pictorial. [5 June 2004]
A Novice's Guide to Digital Aviation Profile Art
How to hide an appalling lack of artistic talent through the use of software. [29 Feb 2004]
It's a Bird, It's a Plane, It's...Superbug!
One of VFA-122's F/A-18E Super Hornets was spotted in the San Francisco Bay Area on Sept. 13-14, 2003, introducing itself to the crowds at this year's AirExpo at Moffett Federal Airfield. A photo pictorial of the strikefighter that will form the backbone of the Navy's tactical aviation inventory in the coming decades.
Desert Storm Air Campaign Tables
Based on data published in Volume 5 of the Gulf War Air Power Survey (Unclassified) and supplemented with information from a number of other sources, these tables contain statistics and details on specific events that took place over Iraq/KTO between 17 Jan 1991 and 22 Mar 1991.

Coalition Air-to-Air Victories lists all air-to-air victories reported by Coalition air forces, including callsigns and BuNo./serial numbers, ordnance employed, and (where available) engagement details.
Coalition Fixed-Wing Combat Aircraft Attrition lists all reported incidents of combat damage and losses to Allied aircraft, including parent units, exact times when available, and cause of attrition.
Air-Delivered Munitions lists all guided and unguided munitions expended by USAF, USN, and USMC aircraft, unit costs per weapon, and total costs.

Post-Desert Storm Air Operations to 1999
A catalog of discrete shooting incidents involving U.S./NATO aircraft between April 1991 and August 1999, including NORTHERN WATCH, SOUTHERN WATCH, and DENY FLIGHT. All but the very large operations (notably ALLIED FORCE, DELIBERATE FORCE, and DESERT FOX) are broken out on an engagement-by-engagement basis. [Coming soon.]
---

TOPSIGHT SENTRY
A weblog covering homeland security, critical infrastructure protection, and intelligence topics.
Key Components of the Iraqi Ground Forces, 2002
An overview of the major maneuver formations of the Iraqi Army's ground forces, as of late 2002. Sort of overtaken by events, in case you hadn't already heard.
---
---
Copyright © 1995 - 2004 Robin J. Lee <robin.lee@aya.yale.edu>, exclusive of U.S. government works. After years of manual HTML markups using a text editor, site administration and maintenance is now performed using Microsoft FrontPage 2000. These pages are designed and laid out at a screen resolution of 1152x864 with a color depth of 32-bits.