Eagles, and Tigers, and Vipers...oh my!
Moffett Air & Space Expo 2004
Moffett Federal Airfield, California
May 29, 2004

Mountain View, California. The annual airshow at the former Naval Air Station Moffett Field was held early this year. A number of tactical types rarely seen in the Silicon Valley landed in Mountain View over the Memorial Day weekend, including F-15Cs from Langley AFB, a pair of exotically-painted F-5Es from NAS Fallon, and a whole flock of F-16s from as far away as Andrews AFB.

The highlight of the festivities was an appearance by the USAF flight demonstration team, the Thunderbirds, which put on a six-ship performance. Although I've seen the Blue Angels on several occasions, this was my first time seeing the Thunderbirds live. It is an impressive show, with almost as much emphasis placed on precision on the ground as in the air. The maneuver pictured on the right is the "diamond overtake," where ships #1-4 make a slow and dirty pass in front of the crowd, while the soloist, coming up from behind, slices through the center of the formation at high speed.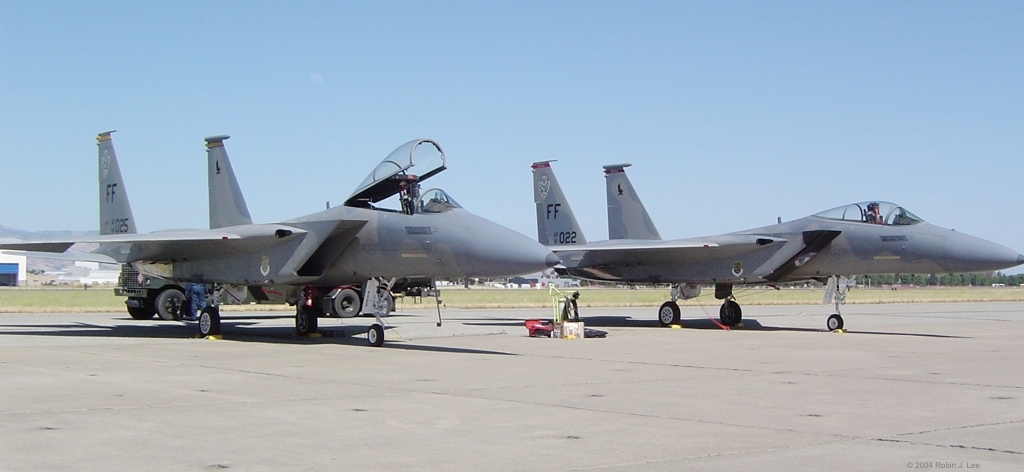 The 1st Fighter Wing sent two jets from the East Coast F-15C flight demonstration team. The F-15C on the left (27th FS, 1st FW, serial 84-025) was the aircraft flown by CPT Jay Denney when he shot down two Iraqi MiG-23s during Operation Desert Storm. Unfortunately, I wasn't close enough to the port side of the aircraft to take a better picture, but you can see the kill markings (two green stars) just under the cockpit in the image to the left.

The aircraft on the right (71st FS, 1st FW, serial 81-022) flew the display flight on Saturday, showing off the Eagle's incredible thrust-to-weight ratio. Toward the end of the demonstration, the F-15 joined Chuck Hall's P-51 "Six-Shooter" in formation to commemorate the 60th anniversary of D-Day, and the "Heritage Flight" made several passes over the crowd.

The Guard was also well-represented at Moffett this year. The "Capital Guardians" of the 113th Fighter Wing at Andrews AFB sent two Block 30 F-16Cs from the 121st Fighter Squadron (serial numbers 85-1471 and 85-1465).





The Arizona Air National Guard was represented by this Tucson-based Block 42G F-16C (serial number 89-2117), operated by the 152nd Fighter Squadron, 162nd Fighter Wing. This Pratt & Whitney-powered, night Viper represents the most modern F-16 type flown by the Arizona ANG.

89-2117 arrived carrying an air-to-air loadout, including the starboard wing stores visible below. The wingtip missile is an AIM-120 AMRAAM, while the outboard underwing pylon carries an AIM-9M Sidewinder. Both are inert training rounds, as indicated by the blue stripes.

---