May 12, 2013 - posted by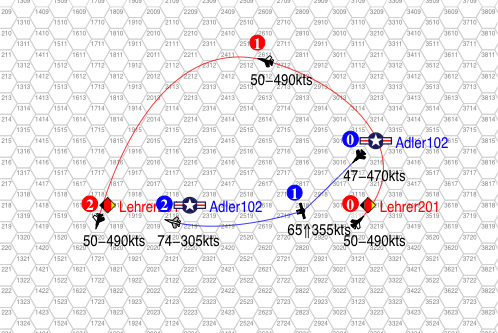 I've been fascinated by the tactics of modern air-to-air combat since I was a kid. Unfortunately, while I have a pretty good grasp of the technology and can visualize the tactical building blocks passably well, I've always had trouble fitting everything together. Countless times over the past twenty years I've taken my well-worn copy of Robert Shaw's Fighter Combat: Tactics and Maneuvering off the shelf, hoping to better educate myself. But while I have no trouble with the early chapters or the aerodynamics, once he starts into the dynamic three-dimensional geometry in the middle part of the book I quickly get lost. Many hours in "serious" computer simulations have not really helped my tactical intuitions. How fighter crews are able to manage all of this in real time while under severe physical stress is really beyond me.
A Board Game?  Like, Monopoly?
After pretty much giving up on ever understanding contemporary tactics, I was surprised to discover that an "old-fashioned" board wargame could do what textbooks and advanced computer simulations could not. Birds of Prey, designed by Phil Markgraf and Tony Valle, breaks down the close-in maneuvering fight into six-second slices of time, where the physics, aerodynamics, and relative geometry of air-to-air combat is laid bare for your perusal. Unlike computer flight simulations, the "why" becomes transparent. Unlike a textbook, the scenario is completely interactive. At its heart is an ingenious system of two-dimensional slide rules ("nomographs") and a method of handling airplanes moving relative to one another in full three-dimensional space. There are aspects of the game that are rough, and parts that are just barely "playable" in their present form, but taken as a whole it is a genuine work of genius.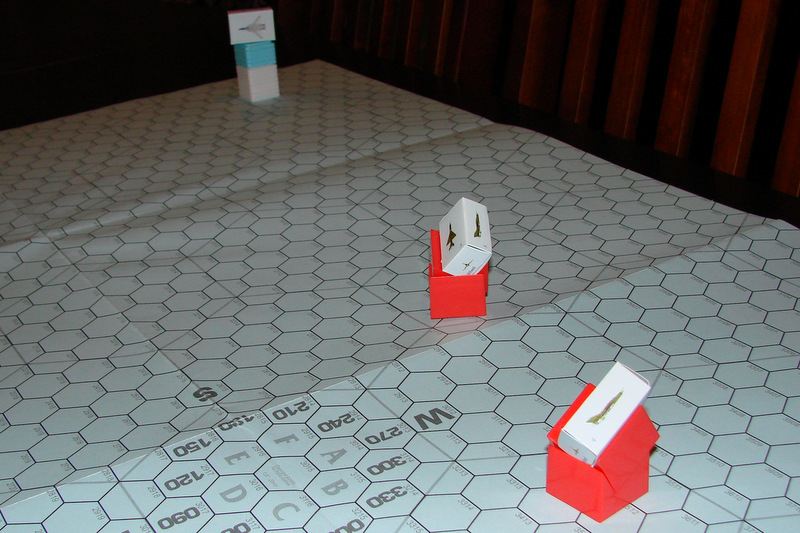 Anyway, this is not a review of Birds of Prey. Instead, I'd like to use the Birds of Prey system as an educational tool to explore the real-world tactical concepts that appear in the various texts and publications I've accumulated over the years (e.g., as a laboratory for working through some of the examples in Shaw). Mostly, I'm doing this for myself — I'm hoping that by putting it into writing, I'll better absorb the concepts. Of course, on the off-chance that others read this and correct any mistakes I make, so much the better.
Cranking Out the Gs:  Instantaneous Turn Performance
We'll start with some fighter performance basics. Birds of Prey incorporates a sophisticated set of aircraft profiles, with a full set of aerodynamic data for each aircraft type. Because you are feeding all of the variables into the "physics engine" of the game, you need to know things like a jet's wing loading, parasitic drag at different speeds, induced drag at different angles of attack, engine output at different throttle settings and altitudes, etc. These profiles are painstakingly built from real-world data, and account for the game's individualized treatment of different aircraft variants (which may have quite different performance characteristics).
Let's do some simple tests of instantaneous turn rate — in effect, at a given speed and altitude, how quickly can a jet change direction? We'll start with an early-model F-16, moving at 400 knots at 12,000 feet, with a light load of two wingtip air-to-air missiles:
Type: F-16A (Block 10)
Stores: 2 x AIM-9M-1 (stations 1 and 9)
Fuel: 35
Weight: 14567 + (35*100) + (2*194) = 18,455 lbs.
Stores drag: 0
At this weight, according to our aerodynamic profile card, our Viper has a wing loading of 60 and a maximum safe load of 11.0G. More speed means more lift, and more lift means more "G" (radial acceleration) to make hard turns. At this speed and altitude, the Viper will be able to generate a healthy maximum aerodynamic load of 8.5G. We will simply stand the jet on its right wing and do a hard level pull "to the limiter" — all the way to 8.5Gs. At the same time, we will select maximum afterburner to retain as much speed as possible through the turn.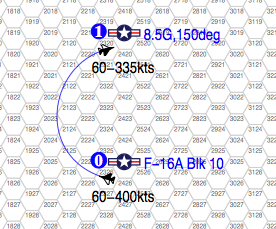 After six seconds, we have turned 150 degrees, but have bled off 65 knots in the process, at a turn radius of roughly 4*400 = 1,600 feet. This is a very crisp, very tight turn. But now at 335 knots, we will not be able to repeat the performance. At this slower speed, we have only 6.0Gs available, and so if we were to continue our max-G turn, our turn rate would be lower.
So that's interesting. Let's compare that with how a similarly-loaded MiG-21MF would do, at the same speed and altitude, carrying comparable stores and fuel.
Type: MiG-21MF Fishbed-J
Stores: 2 x R-13M Atoll (stations 1 and 2)
Fuel: 35
Weight: 11795 + (35*100) + (2*198) = 15,691 lbs.
Stores drag: 0
At this weight, the MiG-21 has a wing loading of 65 and a maximum safe load of 7.5G. At 400 knots, however, the MiG-21 can generate only 5.0Gs. This is not an efficient speed for the MiG. The concept of "corner speed" is, in my crude understanding, the slowest possible speed at which the maximum structural G is available — in effect, it's the lowest speed at which you can pull all the way up to the airframe's mechanical G-limit. For the MiG-21MF at this height, corner speed is roughly 480 knots. We'll see if those 80 knots are missed.
So we'll do the same thing here as we did in the Viper: a hard turn across the horizon at max G, in full afterburner.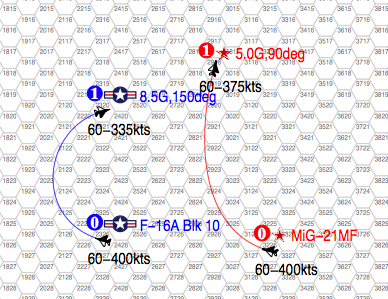 The MiG-21 turns 90 degrees in six seconds, bleeding 25 knots in the process. This is a turn radius of somewhere around 7*400 or 2,800 feet.
How would the MiG-21 have fared if it was moving faster, say, at its nominal corner speed of 480 knots? At that speed, it would have the full 7.5Gs available to apply to its turn.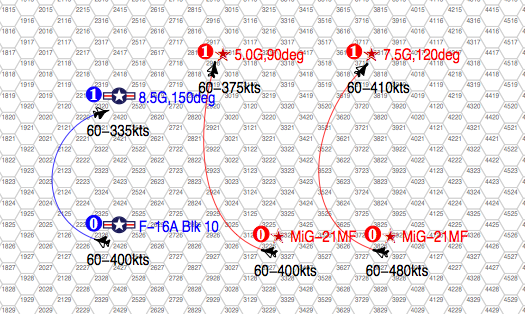 Better: it manages to eke out an additional 30 degrees of turn within the first six seconds, bleeding 70 knots in the process. Turn radius is about 5*400 = 2,000 feet. Still not quite up to the turn performance of the Viper, but at 20 degrees per second, the MiG-21 is putting on a nimble display.
Sustainable Aviating
All of the above is about "instantaneous" turn rate — that is, how much performance you can wring out of the jet at a given speed, weight, and height. But, as we have seen, the act of turning itself changes these variables. Hard turns cause the airplane to slow down, and slowing down means less available lift, which in turn means less available load factor. In the third example, the MiG-21 starting a 7.5G turn at 480 knots loses 70 knots at the end of six seconds, which puts him at about where the MiG-21 in the second example was. You can imagine some situations where a fighter pilot will want to make the hardest turn possible regardless of the speed cost — a last-ditch defensive maneuver, perhaps, or maybe to gain the final few angles on the opponent necessary to employ a weapon. But what if it's still early in the engagement, and we don't want to spend all that speed at once? What if we want to make the hardest possible turn while maintaining our current airspeed?
This is the issue of "sustained" (as opposed to "instantaneous") turn performance. To examine this, let's take a look at how Birds of Prey models speed changes. Basically, at the end of each six-second turn, the game asks you to take all of the factors that would cause your airplane to speed up (the thrust from your engine and any speed picked up in a dive), and net that against all of the factors that would cause your airplane to slow down (parasitic drag, induced drag, and any speed lost in a climb). If the first bucket of factors outweighs the second, you speed up. If the opposite is true, you slow down. If the buckets are equal, then you maintain your current speed.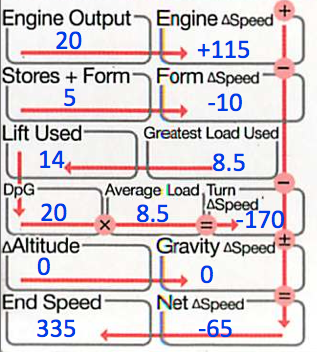 Above is the relevant part of the Birds of Prey aircraft control card for our F-16A (this is provided as a laminated card that you're supposed to write on with an erasable marker, but I use a scanned copy and annotate using a PDF viewer). This particular model of F-16 is powered by a single Pratt & Whitney F100-PW-200 afterburning turbofan; according to the aerodynamic profile, at an altitude of 12,000 feet this motor produces a thrust value of 20 when in full afterburner. By cross-referencing this value against this F-16′s current wing loading (60) on the performance nomograph, I see that this equates to a speed increase of 115 knots every six seconds.
"Stores + Form" is the value for parasitic drag created by the the airframe itself, plus any stores you might be carrying. The Viper is pretty much clean, with only a pair of wingtip missiles, and this amounts to a stores drag of 0. According to the aerodynamic profile, the F-16A itself has a form drag of 5, and so the total value is 5+0 = 5. Again I run it through the nomograph, and determine that at this speed and wing loading, the shape of the aircraft itself generates enough drag to slow the airplane by 10 knots every six seconds.
Next is induced drag. To calculate this, I take the largest load factor used during this turn (8.5G), and determine how much lift it took to generate that load factor (all of it…a value of 14 based on the aerodynamic profile). Then I look up the "drag per G" value on the profile card for using this much lift — it's 20 — and multiply by the average load factor during this turn (we pulled a steady 8.5Gs all the way through). This tells us that we lost 170 knots as a result of induced drag generated by our hard pull. Yikes.
Finally, we look at altitude. This one is easy, because we've been making level turns with no change of altitude. With no height lost and none gained, there is no speed change as a result.
Adding everything up, we find that we're short 65 knots, which accounts for the Viper slowing from 400 knots to 335 after its six-second pull.
So what does this tell us about sustained G? Well, we know that the engine output won't change — the throttle is all the way to the stops. The parasitic drag won't change — the 10 knot loss of speed is inherent in the shape of the F-16 itself. Altitude was a non-factor. Taking the +115 knots generated by thrust and subtracting the 10 knots from parasitic drag, that leaves us with 105 knots to play with. In order to achieve a steady energy state, we need to find out what load factor will produce exactly 105 knots of speed loss.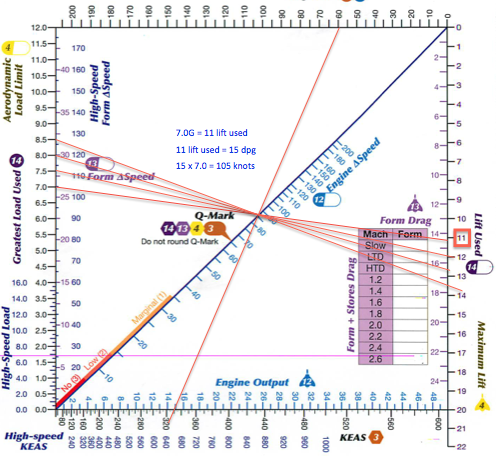 Working the figures backwards through the nomograph, we find that 8.0G would yield -145 knots. 7.5G would yield -125 knots. And 7.0G would yield -105 knots.
What this means is that our F-16A, starting at 400 knots and 12,000 feet, when operating at full afterburner, can pull a 7.0G level turn all day long. This roughly amounts to 120 degrees of turn in six seconds, with a turn radius of roughly 2,000 feet. In other words, roughly the same turn that the MiG-21MF could manage when at corner speed. But the difference is that this turn caused the MiG-21 to bleed 70 knots of speed, which means that in the next six seconds he will only be able to manage 90 degrees of turn. The Viper will be able to hold on to his 400 knots and accompanying turn rate indefinitely (or at least until pilot G-tolerance or fuel endurance runs short, whichever comes first). Interestingly, for this exercise, we haven't even started the Viper at its own corner speed (about 450 knots at this height), which would have made available to the F-16 driver a crushing 11.0Gs for the turn. It's no wonder that the F-16′s turn performance is legendary.
It also emphasizes what a difference a motor can make, and why different variants of the same aircraft type can have very different performance attributes. To give an example, if our F-16A had the General Electric F110-GE-100 engine that comes standard on the Block 30 F-16C, it would have had roughly an extra 15 knots of acceleration every six seconds to work with.  Fifteen knots doesn't sound like much until you look at the nomograph work we were doing earlier to calculate sustained G, and you realize that it would mean almost a half-G increase in sustained turn performance. Of course, in real life, things aren't quite that simple (the F-16C is heavier than the F-16A and has somewhat different aerodynamic characteristics). But fooling around with the numbers in Birds of Prey sheds some light on the continuing importance of engine performance to fighter design, and on why, for example, the F-14B with the bigger motors was such a significant improvement over the F-14A.
Anyway, So Much For the Airplane Stuff
None of this will be new to anyone who is moderately interested in fighter aircraft design, but it wasn't until Birds of Prey pulled it all together that I really understood how everything ties together into real-world performance.
In the future, I hope to explore different tactical setups and basic fighter maneuvers, starting with similar opponents.
Update:  The Birds of Prey team notes that the engine output value is not a simple reflection of raw thrust, but also factors in the effective wing area of the airplane.  As a result, engine output values are not generally comparable across different aircraft types (at least aircraft types with different wing areas).  This probably makes my speculation about dropping an F-16C engine into an F-16A wrong (or at least wrong-headed).  Unfortunately I don't have the aerodynamic profile cards at hand for the F-16A and F-16C, so can't confirm whether the effective wing areas are the same (I would imagine that they're close, though).
April 8, 2012 - posted by
There is an odd bit of trivia about the U.S. air campaign over Iraq in 1991 that has been a source of curiosity for me for more than fifteen years, and I think I happened upon the answer last night.  Or, at least, an answer.
Over forty Iraqi aircraft were downed by the U.S.-led coalition in the course of air-to-air engagements during Operation Desert Storm (ODS); I have a "kill table" here.  The table draws upon various official and unofficial historical records that have emerged in the two decades since ODS, and in most cases includes the parent unit and radio callsign of the coalition aircraft that scored the victory.  You will see that the overwhelming number of victories were scored by F-15Cs of the USAF (and indeed, a disproportionate number of kills went to one particular squadron, the 58th Tactical Fighter Squadron of the 33rd Tactical Fighter Wing).  The reasons for this are complicated, involving joint command-and-control arrangements and inter-service politics, and remain controversial even two decades later.
In any event, two air-to-air engagements resulted in kills for the Navy.  The first encounter occurred on the first night of the war (Jan. 17), when two F/A-18C Hornets from VFA-81 "Sunliners" shot down a pair of Chinese knock-off MiG-21s while on the inbound leg to their ground target.  The second encounter occurred on Feb. 6, when an F-14A Tomcat from VF-1 "Wolfpack" shot down an Mi-8 helicopter while on a combat air patrol.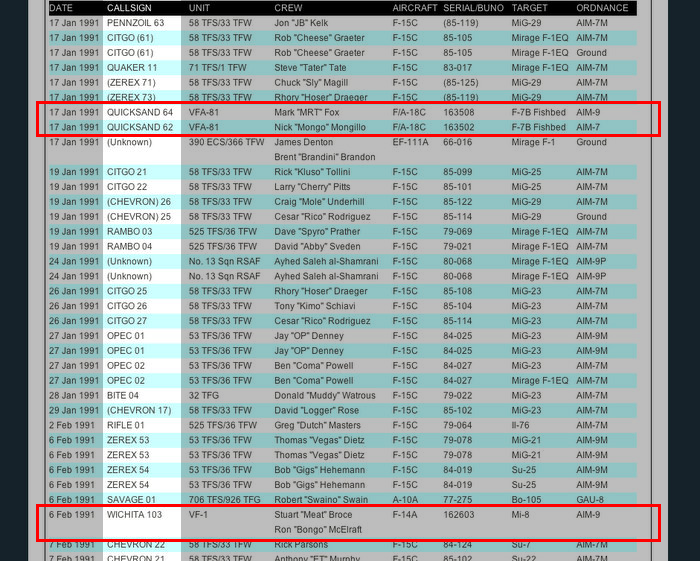 My puzzle related to the question of callsigns.  If you look at the litany of callsigns in the kill table, you will notice that almost all of the callsigns take the form of a call name followed by two digits.  The call name usually follows a theme, such as oil brands (QUAKER, CHEVRON, CITGO) or firearms (PISTOL, SPRINGFIELD), and the two digits indicate the position of an aircraft in an element or flight.  So, for example, the pair of F-15s from the 36th TFW that got four kills on Jan. 27 took the callsigns OPEC 01 (the leader) and OPEC 02 (his wingman).  This uniform system was dictated by the Air Tasking Order (ATO), the theater-wide air plan used to organize and control the very large numbers of armed aircraft crossing the skies over Iraq and Kuwait, the majority of which were ostensibly on the same side and should not be colliding into or employing weapons against one another.
So, let's look at our Navy flights on Jan. 17 and Feb. 6.  We see that our MiG-killing F/A-18s took the callsigns QUICKSAND 64 and QUICKSAND 62, which appears to be consistent with the ATO system.  But our helo-busting F-14 was using a strange callsign that is not like the others:  WICHITA 103.  This is not an ATO-compliant callsign.  Rather, this is a "tactical callsign" used by Navy carrier air wings, comprised of a squadron-specific call name combined with the three-digit modex number painted on the side of the airplane.  "WICHITA" was the unique call name used by VF-1 "Wolfpack", and the jet in question was #103.  (The Navy tactical callsigns for our Hornets from Jan. 17 would have been SUNLINER 401 and SUNLINER 410.)
Why did the Tomcat on Feb. 6 not use an ATO callsign?  It couldn't have been an Air Force/Navy thing, since the Navy F/A-18s on Jan. 6 were using ATO callsigns.  It couldn't have been a Tomcat/Hornet thing, since we know that when an F-14B from VF-103 was shot down on Jan. 21, it had the ATO callsign SLATE 46.
For years I assumed that this was simply a question of incomplete recordkeeping, and that there had to have been an ATO callsign somewhere that simply hadn't made it into the public sources.  But when I inquired with the pilot of that F-14 last year, he told me that to the best of his recollection, his callsign on that day was in fact WICHITA 103.  So it seems there was a discrepancy, but still no indication as to why.
There the matter lay, until last night.  I was reading the transcript of an interview of Maj. Gen. 'Alwan Hassoun 'Alwan al-Abousi, formerly of the Iraqi Air Force, conducted by a team of American scholars and analysts after the fall of Saddam's regime (Kevin Woods et al., Saddam's Generals:  Perspectives of the Iran-Iraq War, Institute for Defense Analyses 2011).  They were discussing a Jan. 24 incident where a pair of Iraqi Mirage F-1s had made an attack run against a Saudi refinery (the coalition had interpreted this as a move against the fleet in the Gulf).  Gen. al-Abousi expressed surprise that the Mirages had not been intercepted by American fighters immediately upon takeoff, which had been the case in the previous two days.  The American interviewer, Williamson Murray, responded with the following:
We discovered after the war that the combat air patrol (CAP) was being flown by F-14s based in the Pacific. The Pacific carrier air wings (US Navy) did not work with the US Air Force often. They did not have the call-sign and codes for getting the [Air Force] AWACS transmissions. AWACS called them regarding the two Iraqi aircraft, but the CAP was not listening to the transmission. The aircraft went right past the CAPs. A Saudi F-15 pilot, who heard the AWACS transmission, shot down the Iraqi aircraft.
The possibility of a difference in operating practices between Atlantic Fleet units and Pacific Fleet units had not occurred to me before.  The F/A-18s on Jan. 17 were assigned to VFA-81 aboard USS Saratoga (CV 60), which was an Atlantic Fleet carrier with an east coast air wing.  The F-14B lost on Jan. 21 was from VF-103, also from Saratoga.  But the Tomcat that shot down the helo on Feb. 6 was from VF-1 aboard USS Ranger (CV 61) —  a Pacific Fleet carrier with a west coast air wing.  All of the Atlantic Fleet aircraft were using ATO callsigns, but the Pacific Fleet F-14 was using a tactical callsign on Feb. 6.
A footnote in Saddam's Generals led me to a naval history of ODS conducted by another D.C. thinktank (Marvin Pokrant, Desert Storm at Sea:  What the Navy Really Did, Center for Naval Analyses 1999), which contains the following passage:
NavCent [U.S. Navy Central Command] fighters . . . strained interservice command and control.  Sometimes it worked very well.  For example . . . on 6 February a NavCent F-14 Tomcat in the [southern] BarCAP station shot down an Iraqi helicopter only because of the vectors from the AWACS controlling the Tomcat.  At other times, command and control was not so smooth.  Conflicting call signs resulted in endless confusion.  Generally, NavCent aircraft would be controlled first by their parent carrier, then by the control ship in the northern Persian Gulf.  Crossing the coast, they would transfer control to the AWACS; this series of handoffs reversed on the return trip.  NavCent and CentAF [U.S. Air Force Central Command] used two different systems of call signs.  NavCent controllers used call signs based on the squadron call sign and the side number of the aircraft — for example, "Fast Eagle 101."  CentAF controllers wanted to use the call signs listed in the ATO, such as "Factory 40″ for a section of two aircraft.  Typically, neither control agent kept track of the other's call signs.
Pokrant confirms the difference between Navy tactical callsigns and USAF-style ATO callsigns, but he doesn't make the Atlantic/Pacific distinction that Murray did during the interview with the Iraqi general.  Instead, Pokrant simply refers to "NavCent" aircraft — that is, all U.S. Navy aircraft operating under the control of U.S. CENTCOM, which was running the war.  During ODS, the Navy operated aircraft carriers both in the Persian Gulf and in the Red Sea; Ranger was in the Gulf, while Saratoga was in the Red Sea.  It is interesting that the passage above refers to air control arrangements over the Persian Gulf, but omits mention of naval air activities in the southwest originating from the Red Sea carriers.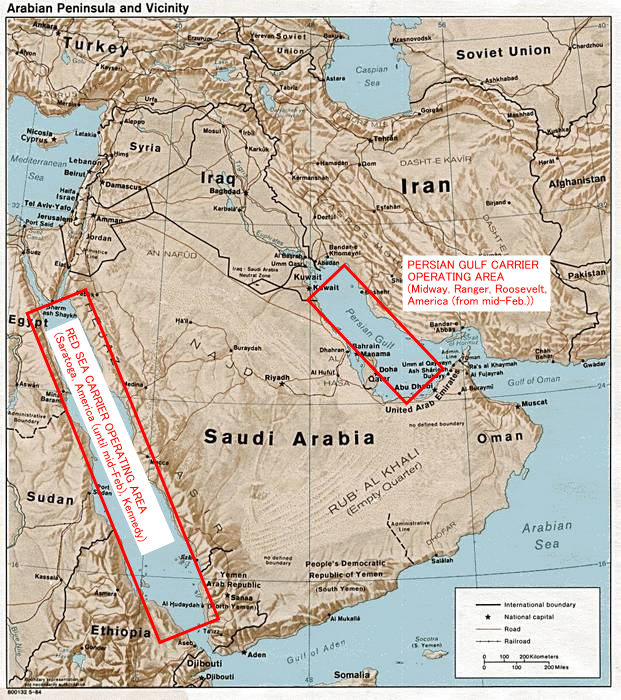 This suggests an explanation for why the F-14 that shot down the Mi-8 on Feb. 6 used a Navy-style tactical callsign, while its sister fighter and strike-fighter squadrons on the east coast adopted ATO callsigns consistent with USAF standards.  There were procedural inconsistencies between the methods applied by the Air Force and the Navy in controlling fighters, exemplified by two separate callsign systems.  The Atlantic Fleet squadrons (perhaps more familiar with the USAF way of doing business because of joint training opportunities in the Mediterranean) were able to overcome this friction and adapt to the USAF-run ATO process, including using ATO callsigns.  But Pacific Fleet squadrons, whose usual operating area was the vast western Pacific Ocean, did not "speak Air Force" as fluently, and tended to retain their usual operating methods (including Navy tactical callsigns).
It's also possible that it was not strictly an Atlantic/Pacific Fleet issue, but differences between the Red Sea and Persian Gulf operating environments, such as the amount of time Red Sea-based Navy aircraft spent under USAF AWACS control as compared to their Gulf-based counterparts.  Navy aircraft originating from the Red Sea had to fly a considerable distance over Saudi territory to reach targets in Iraq.  If the Air Force's AWACS crews, rather than the Navy's own E-2 controllers, had primary responsibility for overland control (as Pokrant suggests was true), then the Red Sea Navy may simply have been forced to deal more closely with the Air Force as a matter of geography.
In the end, of course, the details of a particular radio call sign used on a particular day over twenty years ago are unimportant.  But all of this highlights the teething problems that the USN and the USAF faced in developing the processes necessary to conduct truly joint air operations.  We see that two Iraqi Mirages were able to slip through a gap in the counterair screen as a result (at least until they ran into a Saudi F-15).  And although this merits a much longer discussion, these command and control problems may have also contributed to the uneven distribution of air-to-air victories between the USAF and the USN.
In the two decades of extended joint air operations conducted by the U.S. that have since elapsed, most of these problems have since been addressed.  It will be interesting to see how new rising air powers, looking to develop similar operational synergies between their land-based and naval air arms, will fare at the same task.
January 13, 2011 - posted by
I converted over the long table of Russian ship names last weekend, a task that, remarkably, turned out to be even more tedious than I had imagined.  Somewhere in the course of doing endless find-and-replace searches to strip out useless tags inserted by Microsoft FrontPage, I realized that managing these things would be a lot easier if only I would step out of 1998 and actually put some of this stuff into a database.  (This would also simplify updates to the air campaign tables, which currently exist as five separate hard-coded web pages.)
So, the lunacy continues: I am now learning MySQL/PHP.  Hope to have a test database up this weekend.
In more substantive news, the Chinese appear to have flown the J-20.  More interesting is the manner of the reveal:
Ma Xing and Zhang Jun may believe their obsession with all things military is just a hobby. That may be true but earlier this week, they saw something that made headlines across the world, and turned them into celebrities.

They got some of the earliest glimpses of China's first stealth fighter plane.

In December, after word about a possible radar-evading plane circulated on the Internet, both men began monitoring a local airport widely considered the home base of such planes.
This is the PRC, mind you, where traditional attitudes toward "state secrets" are not ordinarily conducive to amateurs watching "local airports" where unannounced fifth-generation stealth fighters happen to be based.  Especially amateurs with websites:
Each time he saw something worthy of sharing, he told his friend, who passed it on to Zhang, 32, another military fan in Jiangsu Province. Zhang posted the information on fyjs.cn, a military forum he established in 2004.

On Tuesday, after Ma saw the J-20, he immediately called his friend, and Zhang did not wasted a moment before he posted the news on his website.

Domestic newspapers, such as Shanghai-based Oriental Morning Post, referred to Zhang's website. Zhang was surprised that even the Wall Street Journal quoted his website.

"I thought the website was just a platform for interaction between military enthusiasts. I did not think that both the domestic and foreign media will be concerned about it," Zhang said. "The military strength of China is enhancing, which enables the country to have an impact on the international stage."
Official, unofficial, or "unofficial," the proliferation of open sources on Chinese military modernization makes for an interesting picture.  The times, they do change.
January 8, 2011 - posted by
Echo-chamber issues aside, the flip side of research in the Internet age is that from time to time, you make the unexpected connection that suddenly provides an information windfall.  Something like that just happened today, when a random "people you may know" suggestion on Facebook put me in touch with a fighter pilot who scored a kill in 1991.  Within a few hours he provided confirmation of a data point that I've been trying to verify for years (specifically, the callsign for his sortie, which had been conspicuously absent from the official USAF sources).  Thanks, "Meat."
January 8, 2011 - posted by
With most of the technical and setup issues for the new site resolved, I spent a few hours updating some research that I did fifteen years ago on the roughly three dozen air-to-air engagements that occurred during the 1991 Gulf War.  This is historian's grunt work:  combing through conflicting accounts, guessing as to the most likely ways in which memories dim or reports fail, filtering out errors that have been handed down from source to source.  One remarkable thing was discovering how far my own work had propagated without citation, leaving me in the mildly entertaining position of seeking to verify my original work using sources that seem to derive from that same work, errors and all.  Circular verification (or, if you like, "fact-checking by echo") has to be one of the principal challenges of historical research in the Internet age.
In any event, with the new information on the Desert Storm air war available, I've applied several different "filters" to the original kill matrix, which reveal some interesting facts about those engagements.  For example, a surprising number of engagements using the AIM-7 Sparrow (a medium-range missile most associated with beyond-visual-range (BVR) fights) were actually made within visual range.  There were also quite a few kills made by wingmen (in some cases where their flight/element leads did not also score), underscoring a tactical fluidity that was very different from the rigid fighter doctrine prevalent in Vietnam, at least in the USAF.
Ultimately I would like to collect and chart more data on these engagements, including geographic locations, precise range of shots, day/night, etc.  But unfortunately I think this may have to wait—while some of the necessary information can be gleaned from pilot accounts, I imagine that the complete dataset is probably still classified, even after twenty years.  Might be worth considering a FOIA request, as both the AIM-7M and AIM-9M have been superseded by newer weapons in the U.S. inventory.  We'll see.
January 6, 2011 - posted by
Well, it turned out that there wasn't an especially easy solution to the table problem.  There is an updated Stacks plug-in for RapidWeaver that permits the creation of tables with unlimited rows, but each cell is a separate Stacks object, which quickly mires down both editor and browser.  In the end, there still doesn't seem to be anything better than a manual process:  I ended up creating a "raw" HTML table in Kompozer, applying CSS styles for the various rows, and then pasting the resulting HTML/CSS code into RapidWeaver.  The results seem to be mostly acceptable.
I will probably convert the other two Desert Storm air campaign tables this week, and begin implementing some updates based on more recent sources.  The original trio of air campaign tables was based on the statistical annex to the USAF's official 1993 five-volume survey.  But Desert Storm began twenty years ago this month, and since then, more detailed accounts of the air campaign have emerged, in some cases correcting errors that appeared in the earlier sources.  Two especially useful works are Craig Brown's Debrief: A Complete History of U.S. Aerial Engagements 1981 to the Present, and Steve Davies'/Doug Dildy's F-15 Eagle Engaged — I plan to use both of them to update, validate, and expand my Coalition air-to-air victories table.