May 12, 2013 - posted by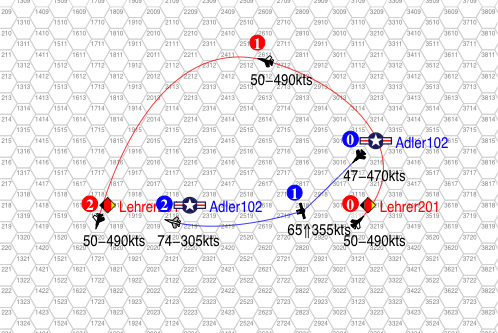 I've been fascinated by the tactics of modern air-to-air combat since I was a kid. Unfortunately, while I have a pretty good grasp of the technology and can visualize the tactical building blocks passably well, I've always had trouble fitting everything together. Countless times over the past twenty years I've taken my well-worn copy of Robert Shaw's Fighter Combat: Tactics and Maneuvering off the shelf, hoping to better educate myself. But while I have no trouble with the early chapters or the aerodynamics, once he starts into the dynamic three-dimensional geometry in the middle part of the book I quickly get lost. Many hours in "serious" computer simulations have not really helped my tactical intuitions. How fighter crews are able to manage all of this in real time while under severe physical stress is really beyond me.
A Board Game?  Like, Monopoly?
After pretty much giving up on ever understanding contemporary tactics, I was surprised to discover that an "old-fashioned" board wargame could do what textbooks and advanced computer simulations could not. Birds of Prey, designed by Phil Markgraf and Tony Valle, breaks down the close-in maneuvering fight into six-second slices of time, where the physics, aerodynamics, and relative geometry of air-to-air combat is laid bare for your perusal. Unlike computer flight simulations, the "why" becomes transparent. Unlike a textbook, the scenario is completely interactive. At its heart is an ingenious system of two-dimensional slide rules ("nomographs") and a method of handling airplanes moving relative to one another in full three-dimensional space. There are aspects of the game that are rough, and parts that are just barely "playable" in their present form, but taken as a whole it is a genuine work of genius.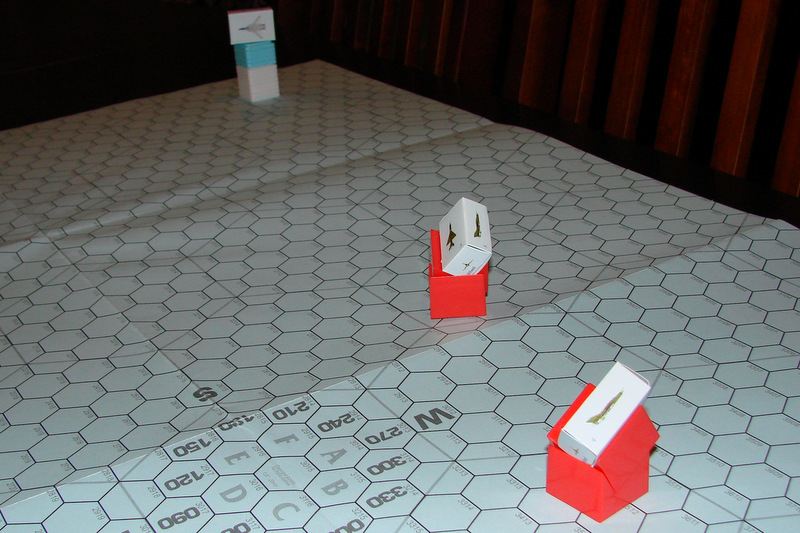 Anyway, this is not a review of Birds of Prey. Instead, I'd like to use the Birds of Prey system as an educational tool to explore the real-world tactical concepts that appear in the various texts and publications I've accumulated over the years (e.g., as a laboratory for working through some of the examples in Shaw). Mostly, I'm doing this for myself — I'm hoping that by putting it into writing, I'll better absorb the concepts. Of course, on the off-chance that others read this and correct any mistakes I make, so much the better.
Cranking Out the Gs:  Instantaneous Turn Performance
We'll start with some fighter performance basics. Birds of Prey incorporates a sophisticated set of aircraft profiles, with a full set of aerodynamic data for each aircraft type. Because you are feeding all of the variables into the "physics engine" of the game, you need to know things like a jet's wing loading, parasitic drag at different speeds, induced drag at different angles of attack, engine output at different throttle settings and altitudes, etc. These profiles are painstakingly built from real-world data, and account for the game's individualized treatment of different aircraft variants (which may have quite different performance characteristics).
Let's do some simple tests of instantaneous turn rate — in effect, at a given speed and altitude, how quickly can a jet change direction? We'll start with an early-model F-16, moving at 400 knots at 12,000 feet, with a light load of two wingtip air-to-air missiles:
Type: F-16A (Block 10)
Stores: 2 x AIM-9M-1 (stations 1 and 9)
Fuel: 35
Weight: 14567 + (35*100) + (2*194) = 18,455 lbs.
Stores drag: 0
At this weight, according to our aerodynamic profile card, our Viper has a wing loading of 60 and a maximum safe load of 11.0G. More speed means more lift, and more lift means more "G" (radial acceleration) to make hard turns. At this speed and altitude, the Viper will be able to generate a healthy maximum aerodynamic load of 8.5G. We will simply stand the jet on its right wing and do a hard level pull "to the limiter" — all the way to 8.5Gs. At the same time, we will select maximum afterburner to retain as much speed as possible through the turn.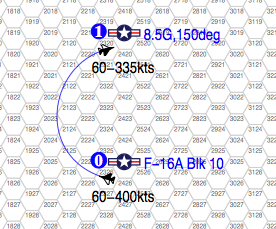 After six seconds, we have turned 150 degrees, but have bled off 65 knots in the process, at a turn radius of roughly 4*400 = 1,600 feet. This is a very crisp, very tight turn. But now at 335 knots, we will not be able to repeat the performance. At this slower speed, we have only 6.0Gs available, and so if we were to continue our max-G turn, our turn rate would be lower.
So that's interesting. Let's compare that with how a similarly-loaded MiG-21MF would do, at the same speed and altitude, carrying comparable stores and fuel.
Type: MiG-21MF Fishbed-J
Stores: 2 x R-13M Atoll (stations 1 and 2)
Fuel: 35
Weight: 11795 + (35*100) + (2*198) = 15,691 lbs.
Stores drag: 0
At this weight, the MiG-21 has a wing loading of 65 and a maximum safe load of 7.5G. At 400 knots, however, the MiG-21 can generate only 5.0Gs. This is not an efficient speed for the MiG. The concept of "corner speed" is, in my crude understanding, the slowest possible speed at which the maximum structural G is available — in effect, it's the lowest speed at which you can pull all the way up to the airframe's mechanical G-limit. For the MiG-21MF at this height, corner speed is roughly 480 knots. We'll see if those 80 knots are missed.
So we'll do the same thing here as we did in the Viper: a hard turn across the horizon at max G, in full afterburner.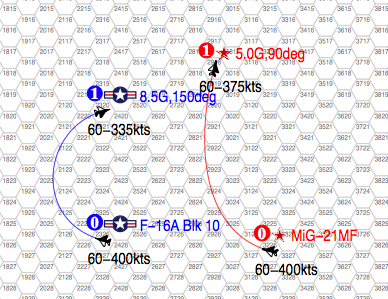 The MiG-21 turns 90 degrees in six seconds, bleeding 25 knots in the process. This is a turn radius of somewhere around 7*400 or 2,800 feet.
How would the MiG-21 have fared if it was moving faster, say, at its nominal corner speed of 480 knots? At that speed, it would have the full 7.5Gs available to apply to its turn.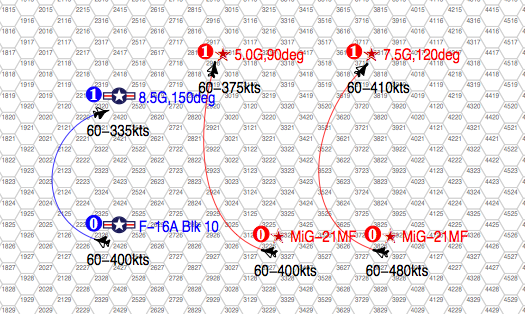 Better: it manages to eke out an additional 30 degrees of turn within the first six seconds, bleeding 70 knots in the process. Turn radius is about 5*400 = 2,000 feet. Still not quite up to the turn performance of the Viper, but at 20 degrees per second, the MiG-21 is putting on a nimble display.
Sustainable Aviating
All of the above is about "instantaneous" turn rate — that is, how much performance you can wring out of the jet at a given speed, weight, and height. But, as we have seen, the act of turning itself changes these variables. Hard turns cause the airplane to slow down, and slowing down means less available lift, which in turn means less available load factor. In the third example, the MiG-21 starting a 7.5G turn at 480 knots loses 70 knots at the end of six seconds, which puts him at about where the MiG-21 in the second example was. You can imagine some situations where a fighter pilot will want to make the hardest turn possible regardless of the speed cost — a last-ditch defensive maneuver, perhaps, or maybe to gain the final few angles on the opponent necessary to employ a weapon. But what if it's still early in the engagement, and we don't want to spend all that speed at once? What if we want to make the hardest possible turn while maintaining our current airspeed?
This is the issue of "sustained" (as opposed to "instantaneous") turn performance. To examine this, let's take a look at how Birds of Prey models speed changes. Basically, at the end of each six-second turn, the game asks you to take all of the factors that would cause your airplane to speed up (the thrust from your engine and any speed picked up in a dive), and net that against all of the factors that would cause your airplane to slow down (parasitic drag, induced drag, and any speed lost in a climb). If the first bucket of factors outweighs the second, you speed up. If the opposite is true, you slow down. If the buckets are equal, then you maintain your current speed.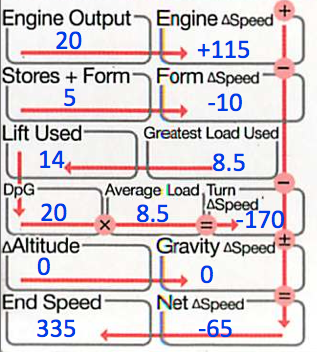 Above is the relevant part of the Birds of Prey aircraft control card for our F-16A (this is provided as a laminated card that you're supposed to write on with an erasable marker, but I use a scanned copy and annotate using a PDF viewer). This particular model of F-16 is powered by a single Pratt & Whitney F100-PW-200 afterburning turbofan; according to the aerodynamic profile, at an altitude of 12,000 feet this motor produces a thrust value of 20 when in full afterburner. By cross-referencing this value against this F-16′s current wing loading (60) on the performance nomograph, I see that this equates to a speed increase of 115 knots every six seconds.
"Stores + Form" is the value for parasitic drag created by the the airframe itself, plus any stores you might be carrying. The Viper is pretty much clean, with only a pair of wingtip missiles, and this amounts to a stores drag of 0. According to the aerodynamic profile, the F-16A itself has a form drag of 5, and so the total value is 5+0 = 5. Again I run it through the nomograph, and determine that at this speed and wing loading, the shape of the aircraft itself generates enough drag to slow the airplane by 10 knots every six seconds.
Next is induced drag. To calculate this, I take the largest load factor used during this turn (8.5G), and determine how much lift it took to generate that load factor (all of it…a value of 14 based on the aerodynamic profile). Then I look up the "drag per G" value on the profile card for using this much lift — it's 20 — and multiply by the average load factor during this turn (we pulled a steady 8.5Gs all the way through). This tells us that we lost 170 knots as a result of induced drag generated by our hard pull. Yikes.
Finally, we look at altitude. This one is easy, because we've been making level turns with no change of altitude. With no height lost and none gained, there is no speed change as a result.
Adding everything up, we find that we're short 65 knots, which accounts for the Viper slowing from 400 knots to 335 after its six-second pull.
So what does this tell us about sustained G? Well, we know that the engine output won't change — the throttle is all the way to the stops. The parasitic drag won't change — the 10 knot loss of speed is inherent in the shape of the F-16 itself. Altitude was a non-factor. Taking the +115 knots generated by thrust and subtracting the 10 knots from parasitic drag, that leaves us with 105 knots to play with. In order to achieve a steady energy state, we need to find out what load factor will produce exactly 105 knots of speed loss.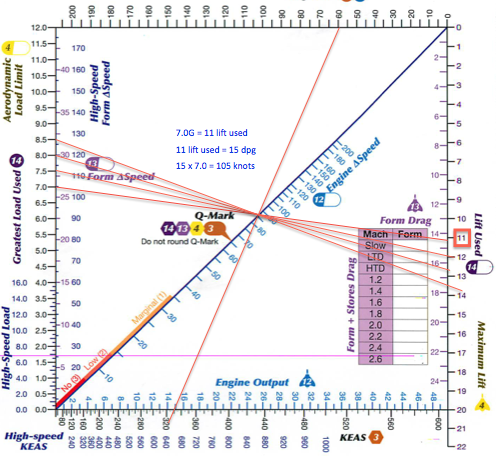 Working the figures backwards through the nomograph, we find that 8.0G would yield -145 knots. 7.5G would yield -125 knots. And 7.0G would yield -105 knots.
What this means is that our F-16A, starting at 400 knots and 12,000 feet, when operating at full afterburner, can pull a 7.0G level turn all day long. This roughly amounts to 120 degrees of turn in six seconds, with a turn radius of roughly 2,000 feet. In other words, roughly the same turn that the MiG-21MF could manage when at corner speed. But the difference is that this turn caused the MiG-21 to bleed 70 knots of speed, which means that in the next six seconds he will only be able to manage 90 degrees of turn. The Viper will be able to hold on to his 400 knots and accompanying turn rate indefinitely (or at least until pilot G-tolerance or fuel endurance runs short, whichever comes first). Interestingly, for this exercise, we haven't even started the Viper at its own corner speed (about 450 knots at this height), which would have made available to the F-16 driver a crushing 11.0Gs for the turn. It's no wonder that the F-16′s turn performance is legendary.
It also emphasizes what a difference a motor can make, and why different variants of the same aircraft type can have very different performance attributes. To give an example, if our F-16A had the General Electric F110-GE-100 engine that comes standard on the Block 30 F-16C, it would have had roughly an extra 15 knots of acceleration every six seconds to work with.  Fifteen knots doesn't sound like much until you look at the nomograph work we were doing earlier to calculate sustained G, and you realize that it would mean almost a half-G increase in sustained turn performance. Of course, in real life, things aren't quite that simple (the F-16C is heavier than the F-16A and has somewhat different aerodynamic characteristics). But fooling around with the numbers in Birds of Prey sheds some light on the continuing importance of engine performance to fighter design, and on why, for example, the F-14B with the bigger motors was such a significant improvement over the F-14A.
Anyway, So Much For the Airplane Stuff
None of this will be new to anyone who is moderately interested in fighter aircraft design, but it wasn't until Birds of Prey pulled it all together that I really understood how everything ties together into real-world performance.
In the future, I hope to explore different tactical setups and basic fighter maneuvers, starting with similar opponents.
Update:  The Birds of Prey team notes that the engine output value is not a simple reflection of raw thrust, but also factors in the effective wing area of the airplane.  As a result, engine output values are not generally comparable across different aircraft types (at least aircraft types with different wing areas).  This probably makes my speculation about dropping an F-16C engine into an F-16A wrong (or at least wrong-headed).  Unfortunately I don't have the aerodynamic profile cards at hand for the F-16A and F-16C, so can't confirm whether the effective wing areas are the same (I would imagine that they're close, though).